Cooked fennel with variations by Jean-Marc Bessire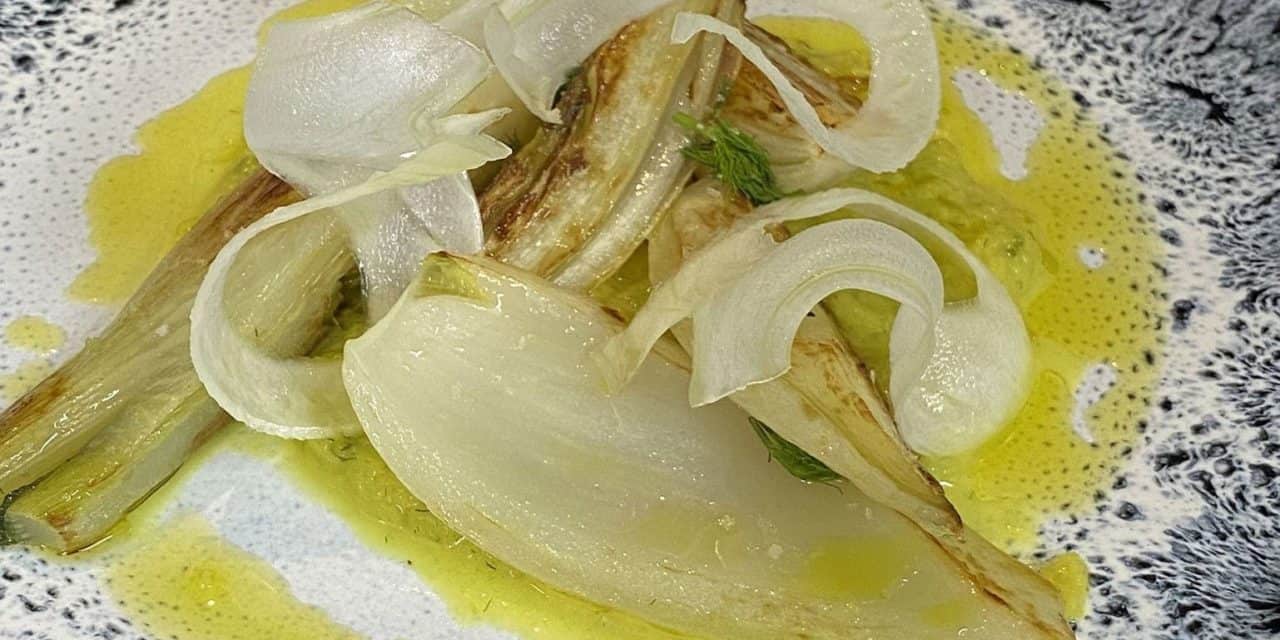 The starred Chef Jean-Marc Bessire is here with us to teach you how to cook the ultimate zero-waste vegetable of the season. Chef emerita from its seafood restaurant Le Cigalon in Geneva, he has created for us cooked fennel with variations.
Ingredients
• 2 fennels
• ½ teaspoon of turmeric powder
• 1 pinch of fine salt
• 1 glass of water
• Cooking olive oil
• Finishing olive oil
The recipe
Step 1: The purée
Trim and chop bulb. Keep fronds for decorating.
Peel off outed layers and coarsely chop them.
In a pan, put your chopped layers and stalks. Drizzle the pan with olive oil and let it cook for a few minutes.
Then add a pinch of fine salt, ½ teaspoon of turmeric powder and water into the pan until recovering the fennel.
Simmer covered for 15-20 minutes.
When time is up, blend the whole mixture with a dash of olive oil until you have a nice purée.
Strain the purée and mash well.
Slice fronds and add them.
                           Tips: Keep and dry out fennel fibres. You can then use them as natural fertilizers for your plants.
Step 2: Pickles
Grate the pickle shavings with a mandolin.
For more crunch, dip them in ice water and leave to stand.
Step 3: Cooking time
Meanwhile, cut the second fennel in half and steam it.
Check that it is cooked by sticking your knife into it.
Brown the fennel in a pan with olive oil.
Step 4: Presentation
Take a round mold and pour in your fennel purée.
Remove the mold and carefully place the roasted fennel in olive oil on top of the purée.
Decorate with the fronds and sprinkle fine salt.
Add the pickles to the plate.
And voilà, you have just cooked steamed fennel roasted in olive oil with turmeric purée flavoured with olive oil and fennel pickles with the Chef Jean-Marc Bessire!