White asparagus by Eric Bouchenoire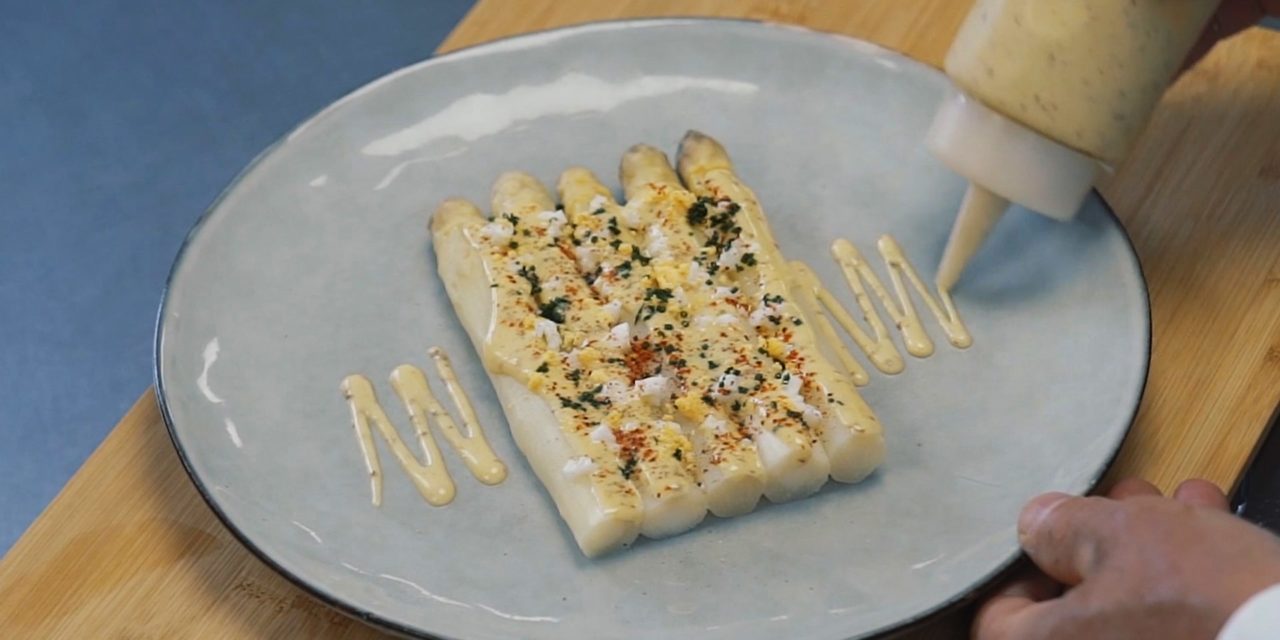 Executive chef of Atelier Joel Robuchon – Eric Bouchenoire – tells us more about his healthy and zero-waste recipe of white asparagus that you can devour with its dressing. It is right on time for a resfreshing summer.
Ingredients
5 white asparagus
60gr strong mustard
25gr Meaux mustard
1 egg yolk
10gr Acacia honey
1 hard boiled egg
½ chopped chives
10cl grape seed oil
10cl sake
20gr kosher salt
Espelette chili
Fleur de sel
Pepper
Recipe
Step 1 – Asparagus preparation
Remove each asparagus' scale.
With a peeling knife, peel the asparagus from top to bottom and put aside the peels.
Once you get a classic shape, hit with the knife and break the bottom.
Step 2 – Asparagus cooking 
Thread together the asparagus to prevent from impacts.
When it starts boilling, salt the water and add the sake that will reduce asparagus bitterness.
Put in the peels and the bunch of asparagus by the bottom.
Keep them standing for 2 minutes.
Then plunge the bunch and cook for 7 minutes until white.
Step 3 – Dressing
In a bowl, put the honey, egg yolk, Meaux mustard and strong mustard.
Whisk the mixture and turn it into a mayonnaise.
When your mixture is whitening, add lightly the grape seed oil.
Whisk until smooth.
Step 4 – Presentation
In a plate, place the asparagus next to each other.
On top of each asparagus, pour your dressing.
Parsemez de l'œuf dur concassé.
Sprinkle with chopped chives, Espelette chili, a bit of fleur de sel and pepper.
Drizzle with olive oil.
And done! You now have a seasonal recipe as taught by Less Saves The Planet and Aquachefs.
LET'S EAT!