Courgette risotto of Massimo Tringali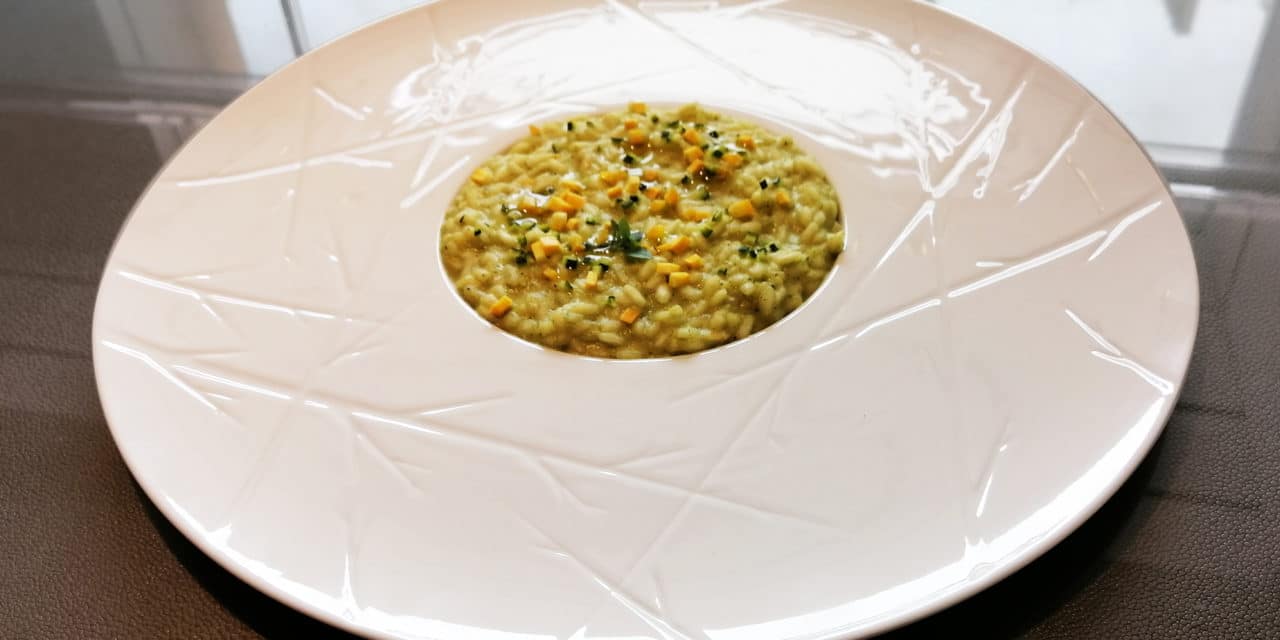 Welcome to Italy with the chef Massimo Tringali at Emporio Armanio Ristorante & Caffè in Paris. Hooked by highlighting the food from his native beautiful region of Sicily, he shares his real courgette risotto recipe.
Ingredients for 2
160 gr Carnaroli or Vialone nano rice
2 courgettes
3 tablespoon of extra virgin olive oil
40 gr butter
50 gr parmigiano reggiano matured over 36 months
500 ml courgette broth
Salt
Pepper
Recipe
Step 1 – Courgette cream
Clean and dry the courgettes.
Cut off the green part in small bits and boil in salt water for 3-4 minutes.
Let it cool in ice water.
Only use the white part of the courgette for the broth and cook in water for 30 minutes.
Blend the green part of the courgette and add a ladle of broth and dazzle of olive oil.
If you want, you can adjust the salt seasoning.
Step 2 – Risotto  
Warm olive oil in a pan, pour the rice in and let it grill for a few minutes and keep stirring.
When the rice is bright and simmering, add while stirring the courgette broth.
When the rice is cooking between 16 to 18 minutes add a ladle of broth one at a time.
If necessary, salt and pepper.
Once the cooking is done, put away from the heat and put in the grated parmesan, the cold butter and the courgette cream.
Mix well until you have a smooth risotto.
Step 3 – Presentation
In a plate, place the risotto.
Decorate with a courgette brunoise.
And in Italy, we say: Buon appetito!