Interview with Eric Bouchenoire, Meilleur Ouvrier de France 2000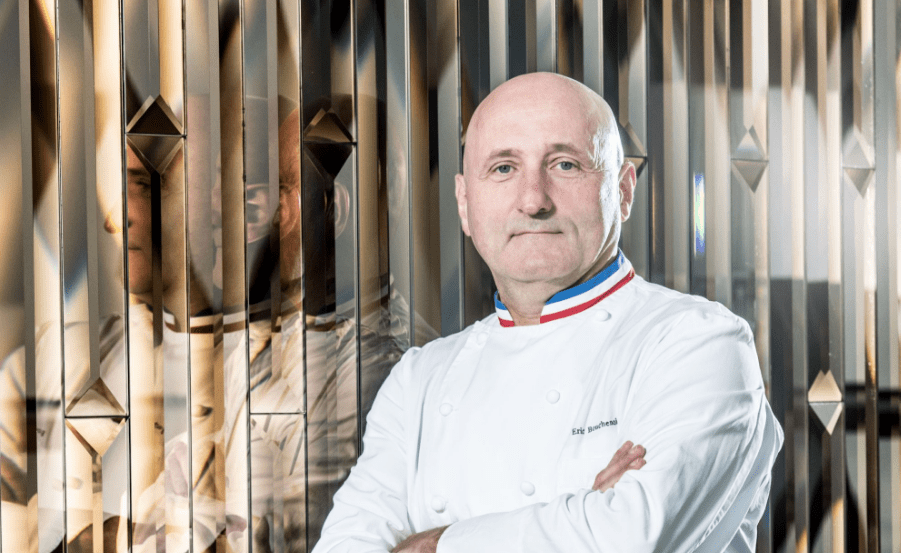 Eric Bouchenoire was the closest associate to chef Joël Robuchon. For him, he has traveled the whole world. Joël Robuchon restaurants are located in 11 countries all over the world. In 1985, he joined Poitevin squad. And it is in 2000 that he became Meilleur Ouvrier de France (Best Craftsmen).
A path to the stars
Originally from Mayet near Le Mans, Chef Bouchenoire was trained at the Hôtel du Maine in Le Lude with Jean-François Lebastard, then at the Taillevent on Rue Lamennais, during the Claude Deligne era – he joined after completing his training as chef to the captain of the Jeanne d'Arc. He met Bruno Deligne, Claude's son, and stayed there for a year. From apprentice chef, he became chef de partie, rotating through all the positions, perfectly capturing the spirit of the place which has three stars and is the archetype of the great Parisian house.
It then has all started in 1985 in Joël Robuchon's first restaurant – Le Jamin. Both got along very quickly and became one of the greatest associations in gastronomy. Their team is more than work, it's a family. As Joël Robuchon said: "To be the first, you have to be a good second". This phrase sticked to chef Bouchenoire because in 35 years, he has assisted him in setting up his new creations to one day take over the Robuchon legacy.
An unlimited collaboration
After winning in 2000 the Meilleur Ouvrier de France award, Eric Bouchenoire has crossed the world for France. The partners have opened Robuchon restaurants across the world: New-York, Las Vegas, Hong Kong, Tokyo, Shangaï and more.
The last one goes back to 2018 in Paris, rue du Faubourg Saint Honoré. Joël Robuchon and the famous sake brand Dassaï have teamed up and launched a saké bar to celebrate Japanese know-how. The Franco-Japanese association led by Eric Bouchenoire and Executive Chef Fabien François perpetuates the culinary traditions of each country without ever merging. In France, the chef has 3 restaurants: Atelier Joël Robuchon Etoile, Atelier Joël Robuchon Saint Germain and Dassaï boutique. 
A support to Less Saves The Planet
Atelier Joël Robuchon was one of the first establishment to believe in our movement. Dedicated to the environment, the chef has obviously joined Less Saves The Planet. He promotes a simple and healthy cuisine that saves the planet. These values do not limitate its creativity.
Since the launching of Less Saves The Planet on 19 September 2018 at Atelier Robuchon in Monaco's Métropole Hotel, chef Bouchenoire and his squad continues to this day to support us. It is a way to commemorate their late master and new cuisine pioneer.
In Eric Bouchenoire's words to Joël Robuchon, "rest in peace, we will be here". So yes, we believe in change!