Green peas soup with Toshitaka Omiya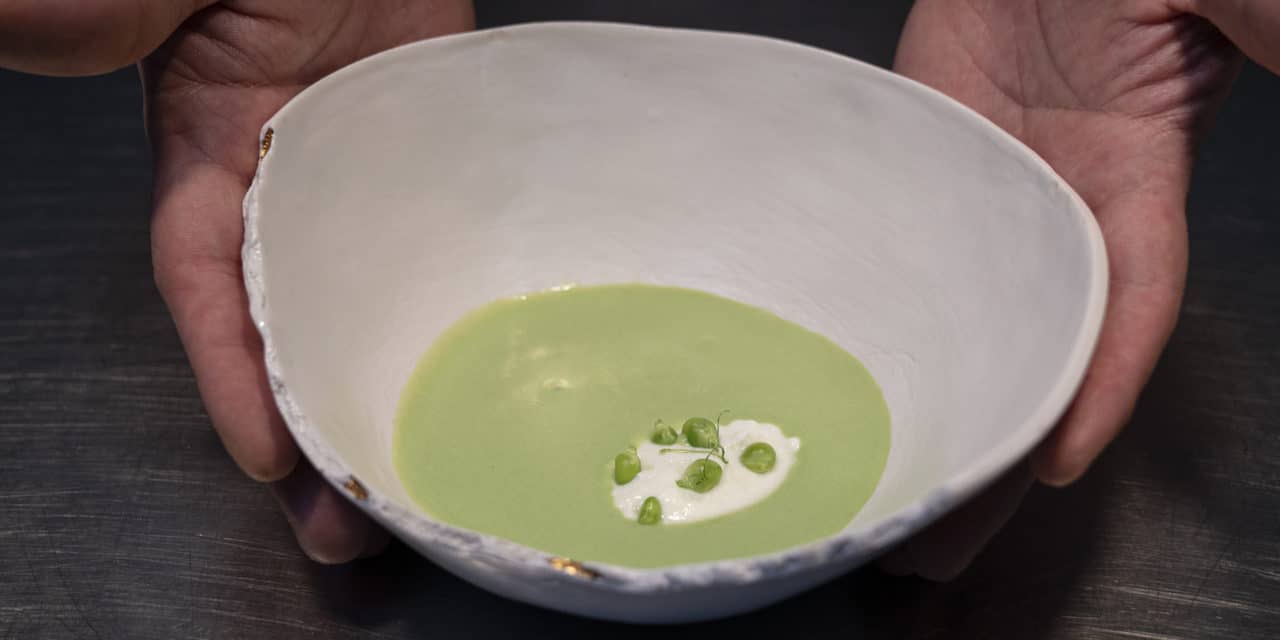 From Osaka to Paris, Toshitaka Omiya has had a great and diverse career before finally opening his one-starred restaurant Alliance located in the 5th arrondissement of Paris. As an ambassador of Less Saves The Planet, he gives us his zero-waste recipe on the wonders of green peas.
Ingredients
Shelled green peas
Butter
Potato pulp
Milk
Single cream
Curd goat milk
Mint oil (grape seed oil mixed with mint leaves)
Table salt
Recipe
Step 1 – Green peas puree
Empty the pods and keep the peas aside.
Blanch one part of the pods in boiling water and then the next one.
Check if they are cooked by cracking them.
Strain and put them on iced water to fix the green colour.
When they are cold, remove from cold water, or else they will lose their nutrients.
Blend and sieve the pods.
Step 2 – Soup
Warm up half of the puree in a pan.
Put the rest in a bowl sited on ice.
Thicken the soup by melting the butter and the potato pulp.
Once melted, remove from the heat.
Then pour the milk and single cream and mix.
Add the mixture to the puree in the iced bowl.
Emulsify and add a good pinch of salt.
Stir in with milk.
Step 3 – Seasoning
For the mint oil, mix the grape seed oil with the mint leaves and sieve.
Season the goat milk with the homemade mint oil.
Step 4 – Presentation
In a bowl or a soup plate, put the seasoned goat milk.
Nicely decorate with a few raw peas and germs.
Lighty pour the soup.
We hope you will enjoy your meal!