Beet & Burrata salad by Eric Briffard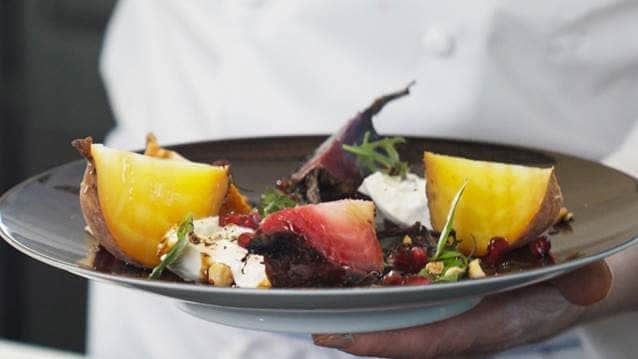 From his kitchen at Le Cordon Bleu Paris, the Executive Chef and Culinary Arts Director – Eric Briffard – is cooking the first salad for sunny days. With his beet & burrata salad, you have found a perfect alternative to tomatoes that are usually unavailable this season.
Ingredients
1 orange beet
1 red beet
1 pack of coarse salt
1 burrata di Buffala
1 pomegranate
Basil leaves
Roasted hazelnuts
Pomegranate treacle
Ground pepper
Recipe
Step 1 – cooking
For each beet :
Clean and brush away any dirt or impurities
With paper foil, create a container and lay pre-moist coarse salt in the bottom.
Center well your beet so that it does not move. Then recover it all with the rest of the coarse salt.
Put in the oven at 150°C for 1h30.
Tips: It's best to cook beets with coarse salt than water. Therefore, you will save water and agree to Less Saves The Planet precepts.
Step 2 – Cutting
Still for every beet:
Take out of the oven and break the salt crust to get to the cooked beet.
After dusting away the salt, cut it into quarters.
Step 3 – presentation
In a plate, place your quarters of beet.
Cut in four the burrata di Buffala.
Put them down next to each beet.
For a fruitier flavour, add pomegranate seeds.
Decorate with basil leaves and grate ground pepper on the burrata.
Finish off with roasted hazelnuts and a drizzle of pomegranate treacle.
And that's it, all you have to do is enjoy this dish cold, warm or hot depending on your mood.
We are waiting to hear from you!