An encounter with Chef Eric Briffard, Meilleur Ouvrier de France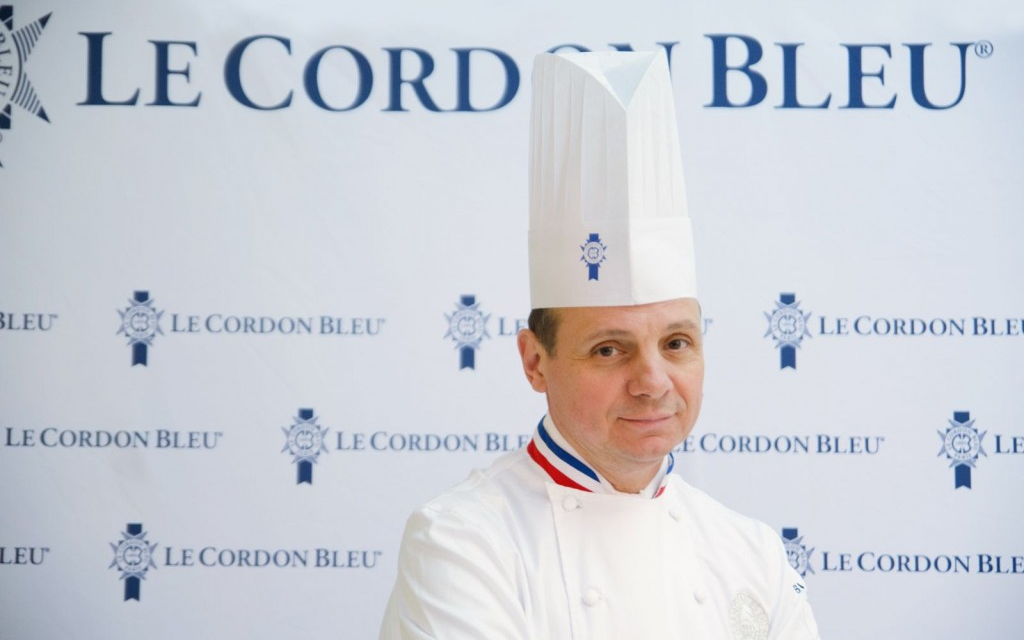 After a 35-year experience in gastronomy, Eric Briffard now demonstrates his excellence as the Culinary of Arts Director of International Culinary School Le Cordon Bleu Paris. Strong believer in our Movement Less Saves The Planet, he has decided to inform its founder – Fadi Joseph Abou – about his long-term relation with ecology.
Eric Briffard – a World-known Chef
From his native Burgundy region, Eric Briffard keeps a taste for the product and the authentic terroir. His professional training began at the age of 15, when he was apprenticed to Michel Moret at the Relais Saint-Fiacre in Appoigny. Following, he incorporated the priesthood of the Compagnonnage and worked with Joël Renty (Hôtel Concorde Lafayette Paris), then Marc Meneau (L'Espérance, Saint-Père sous Vézelay) and Philippe Groult (Manoir de Paris).
It was in Japan that he worked as a chef at the Palazzo, the restaurant of the Royal Park Hotel in Tokyo. There he discovered Japanese cuisine, hygiene precision, incredibly fresh vegetables, raw cutting and the fifty uses of seaweed. He returned to Paris once appointed Chef de cuisine at the restaurant Le Jamin by Joël Robuchon. A few years later, Eric Briffard wanted to create his own cuisine – so he distinguished himself at the 1-star Château de Fère. He then took over the management of the kitchens of the Hôtel Plaza Athénée Paris and the restaurant Le Régence.
His impressive career is punctuated with a long list of prestigious awards: "Meilleur Ouvrier de France" in 1994, "Meilleur Espoir du XXIème siècle" in 1999. In 2000 he was awarded 2 Michelin stars and a second time in 2007 at the Restaurant Les Elysées du Vernet, in Paris! In 2008, he took over the management of the kitchens of the Four Seasons Hotel George V in Paris and again obtained 2 Michelin stars for the Table du Cinq. He was named "Chef of the Year 2010" by the Pudlo guide and received 4 toques in the Gault-Millau guide.
Briffard's touch
Here he is at the top of Le Cordon Bleu Institute where he has created an 800m2 vegetable patch in the middle of Beaugrenelle's skyscrapers in Paris!
One of his main goal as a Director is highlighting seasonal products. It's with his students that he is sharing this exceptional urban patch where are growing seasonal, but most of all good quality products. At hand, students are able to learn about permaculture. This method of agriculture, based on the principles of sustainable development, is intended to respect biodiversity and human beings. It consists of imitating the functioning of natural ecosystems. For Eric Briffard, it is a good way of making future cooks aware of quality while preserving products for the future. They even go so far as to recover leftovers and peels to use in their own compost!
The patch made by the Chef counts many varieties of fruits and vegetables – from vegetable plants to root vegetables. What's amazing is that each plant is protecting one another from harmful insect or
As a member of the Aquachefs "Chefs Save Water", where several renowned chefs are committed to saving water, the UN's 6th goal, the Chef also seeks to recycle rainwater from the top of his Parisian building. The wooden pallet ground under his feet recovers rainwater thanks to an innovative foam.
At Le Cordon Bleu, Eric Briffard and his students are the first to commit themselves to the planet – optimising water consumption, saving water, making compost.
A huge Bravo!