Green beans salad Asian style by Eric Bouchenoire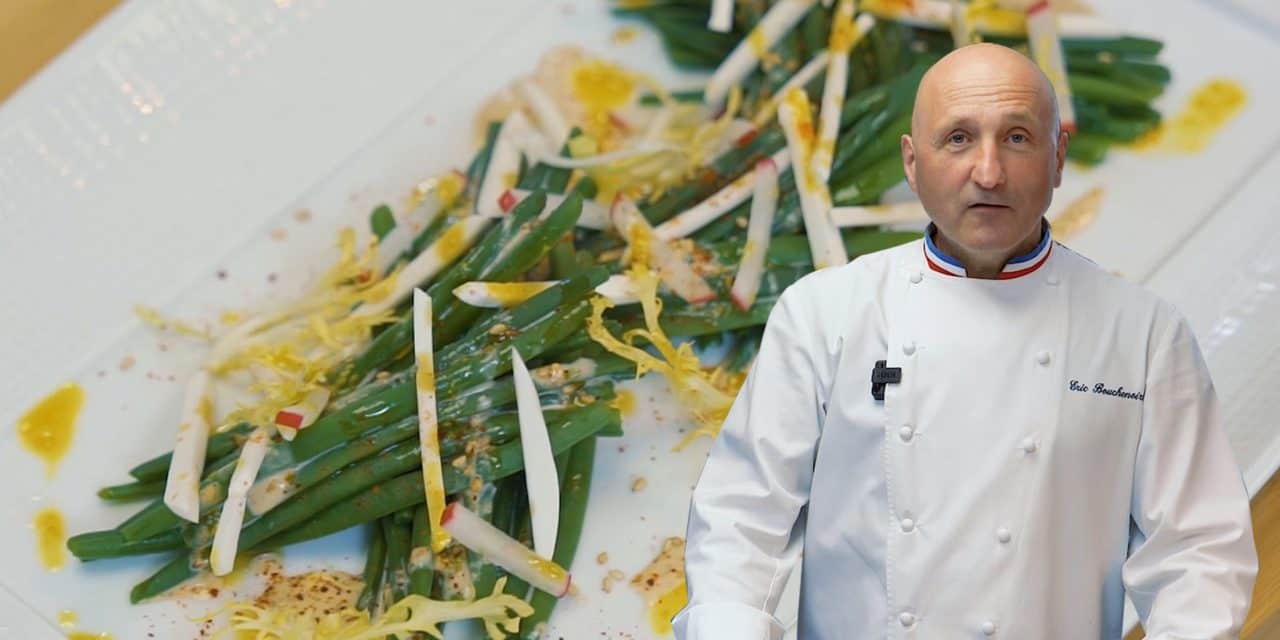 The Executive chef of Atelier Joël Robuchon – Eric Bouchenoire – welcomes you into his Franco-Japanese bar: Boutique Joël Robuchon-Dassaï in Paris. We find him again with a recipe made from a classic French vegetable and its Asian touch.
Ingredients
150g green beans
1 frisée salad
1 tablespoon of sesame cream
1 Portobello mushroom
4 radishes
1 tablespoon of red wine vinegar
3 tablespoon olive oil
Roasted sesame seeds
20g of Kombu seaweed
20g of sea salt
Fleur de sel
Pepper
Espelette chili pepper
Turmeric oil
Recipe
Step 1 – Cooking green beans
Boil 2 litres of water in a big pan
The moment it starts boiling, add sea salt, trimmed green beans and Kombu seaweed.
Cook at strong heat for 7 minutes.
Meanwhile, get a large bowl containing iced water.
Once cooked, plunge the green beans in the water to keep its vibrant green colour. 
Step 2 – Making of the dressing
In a bowl, put a pinch of salt, pepper the red wine vinegar and olive oil.
Toss lightly as it will melt the salt.
Add the sesame cream and a nice pinch of roasted seeds.
Whisk and set aside.
Step 3 – Presentation
In a plate, put the cooked green beans.
Top with the homemade sesame dressing.
Cut the mushroom and radishes in sticks.
Place them nicely on top of the beans and dressing.
Sprinkle with sesame seeds and colour it up with frisée salad and Espelette pepper.
Pour a bit of turmeric oil.
The Chef Eric Bouchenoire offered you a simple, easy and healthy recipe. And above all, who fits into the recommendations of Less Saves The Planet and Aquachefs.
Bon appétite !