Broccoli soup by Olivier Valade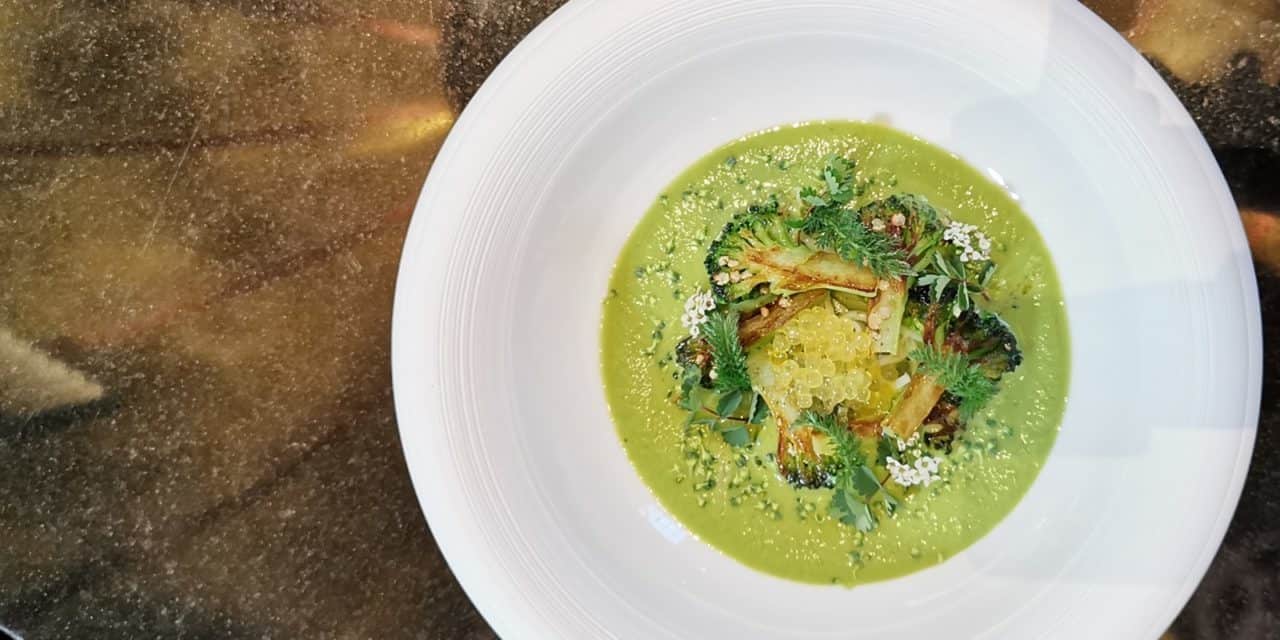 Brilliant and prestigious chef whom has worked all over France – from Monaco to Metz, he received a Michelin star for his Breton restaurant in 2016. Olivier Valade is the new chef of Château Saint-Jean in Montluçon which thanks to him, has his first star. For us, he gives out a healthy broccoli soup made from no waste!
Ingredients
2 broccolis
Seaweed tartar
Nori seaweed powder
A small glass of white balsamic vinegar
A small glass of grape seed oil
A bowl of rocket
Salted butter
Quinoa flakes
Poultry stock
Salt
Pepper
Recipe
Step 1 – Florets
Remove the broccoli florets from the stem.
Choose a few and sharpen them.
Cook in bowling water for 2 to 3 minutes. Meanwhile, make ready a large bowl of ice water.
With a sharp tool, spike the thickest part.
Halt the cooking process by plunging them in ice water. Let it cool off and put away the water bowl.
Slice the florets in 2.
Pan-fry them on the flat side with grape seed oil.
Step 2 – Stem
Remove the hard skin from the stem.
With a peeler, remove fibers to access to the heart.
With a mandolin, slice thinly.
Get the ice water and put in the julienne for an hour.
Strain the julienne.
In another bowl, season with the seaweed tartar and balsamic vinegar.
Step 3 – Soup
Cut the last broccoli and its stem like in step 1.
In a large pan, melt the butter and cook the broccoli until soft.
Add the poultry stock and let it cook for 20 minutes.
Blend the preparation and add the rocket.
Once complete, season with a good pinch of salt and pepper.
Step 4 – Quinoa soufflé
In bowling water, cook the quinoa flakes.
Strain and season with salt.
Add the nori powder.
Step 5 – Presentation
Get the buttons of a few florets.
Place the broccoli soup in the bottom of the soup plate.
Put the julienne on top and the fried florets all around.
Decorate with quinoa and flowers.
Come and cook with Chef Valade!