Patrick Raingeard, the multi-award-winning chef at Cap Estel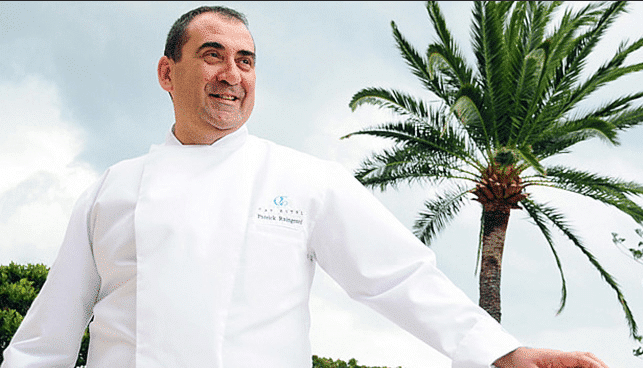 After learning cuisine with the best chefs in France like Alain Passard, Jacques Maximim or Pierre Hermé, the Chef Patrick Raingeard welcomes us to the depth of the Mediterranean Sea. He opened his restaurant La table de Patrick Raingeard at Cap Estel Hotel***** in 2012. Used to obtaining Michelin stars, he clearly received one star a year after opening and the Golden PACA Gault&Millau. He opened in 2018 his second restaurant Ficus where he hopes to touch the stars.
Chef of the seas
The art of the multi-award-winning chef from the Alpes-Maritimes region is at its best in a quiet environment, far from Nantes civilization where he is from.
Down in an Italian-styled villa hidden under the Eze Corniche, Patrick Raingeard works in a modern establishment full of charm. This chef has a deep respect for good quality products. He also defends sustainable fishing which preserves fish resources. A touch of inventiveness always enhances his particularly well-prepared dishes. In a beautiful homage to the Mediterranean, he works on a contemporary menu rich in seafood and local products, all according to the seasons.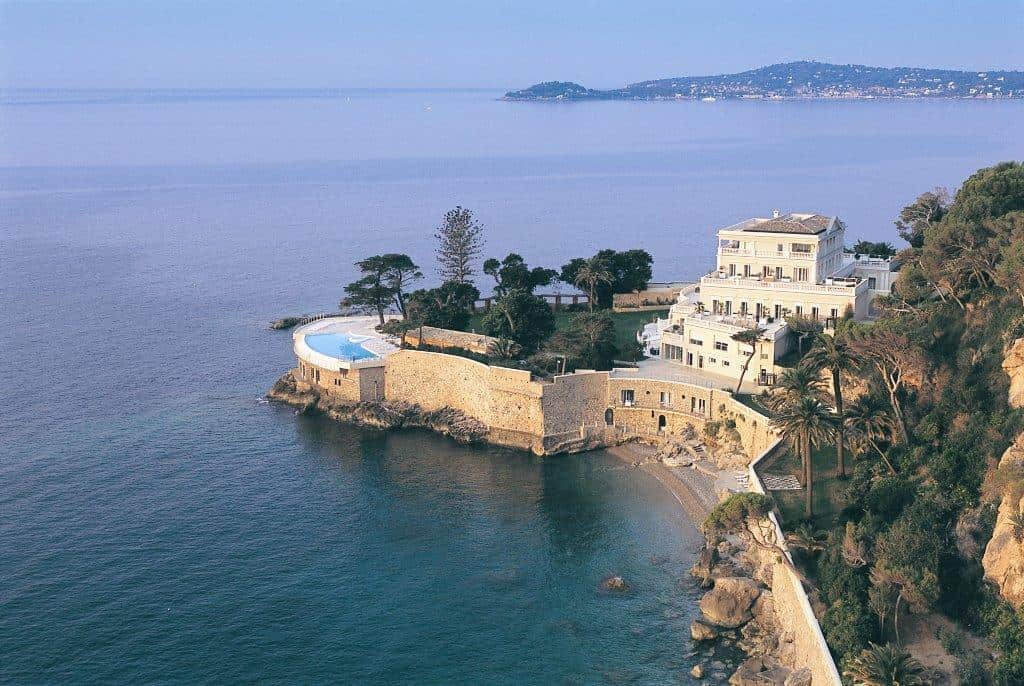 Patrick Raingeard's recipe
Today, he is giving you a recipe for sunny days. With aubergines, the Chef Raingeard improves nature's wonders whilst preserving the environment. An aubergine is a vegetable that hides under his purple skin, many antioxidants and efficient compounds in reducing glycemia and cholesterol. According to Less Saves The Planet book, it is interesting to notify that it is mainly produced in Côte-d'Azur. The chef has therefore opted for a local supply in order to limit the carbon footprint of his favourite products.
Let the sunshine in with Charcoal-burnt aubergine, crispy parmesan and fresh goat cheese with verbena oil.
Ingredients
2 aubergines
1 red pepper
100 g French goat cheese
1 zest of a lemon
5 g chopped garlic
1 dl of single cream
20 g of white onions
5 dl of verbena infused olive oil
5 dl of olive oil
1 cl of white balsamic vinegar
50 g of flour
50 g of butter
50 g of parmesan cheese
1 pinch of cumin
Fresh thyme
Young basil leafs
Step 1 – Aubergine caviar
Burn your aubergines with charcoal.
Season with garlic, onion, cumin, white balsamic vinegar and thyme.
Put in the oven to soften up the vegetable and blend until desired texture.
Step 2 – Fresh goat cheese
In a small pan, heat up the goat cheese.
Blend in with the single cream and verbena infused oil.
Season with salt and pepper. Leave the lemon zest to brew.
Fill a pastry bag for sticks.
Keep in the refrigerator to fix.
Step 3 – Red pepper purée
Confire the red pepper in the oven at 180° to allow the skin to be removed.
When it comes out of the oven, puree it with the virgin olive oil.
Step 4 – Parmesan crumble
Mix the flour with grated parmesan and butter.
Cook in the oven.
Step 5 – Presentation
In a round plate, put the aubergine caviar on one side of the plate.
Remove the fresh goat cheese from the refrigerator, place a slice on the caviar and decorate with basil.
Arrange the other side of the plate, making circles with the red pepper purée and place pieces of parmesan crumble on either side.