The Chef Sébastien Schwebel of the Rotary Mgallery hotel restaurant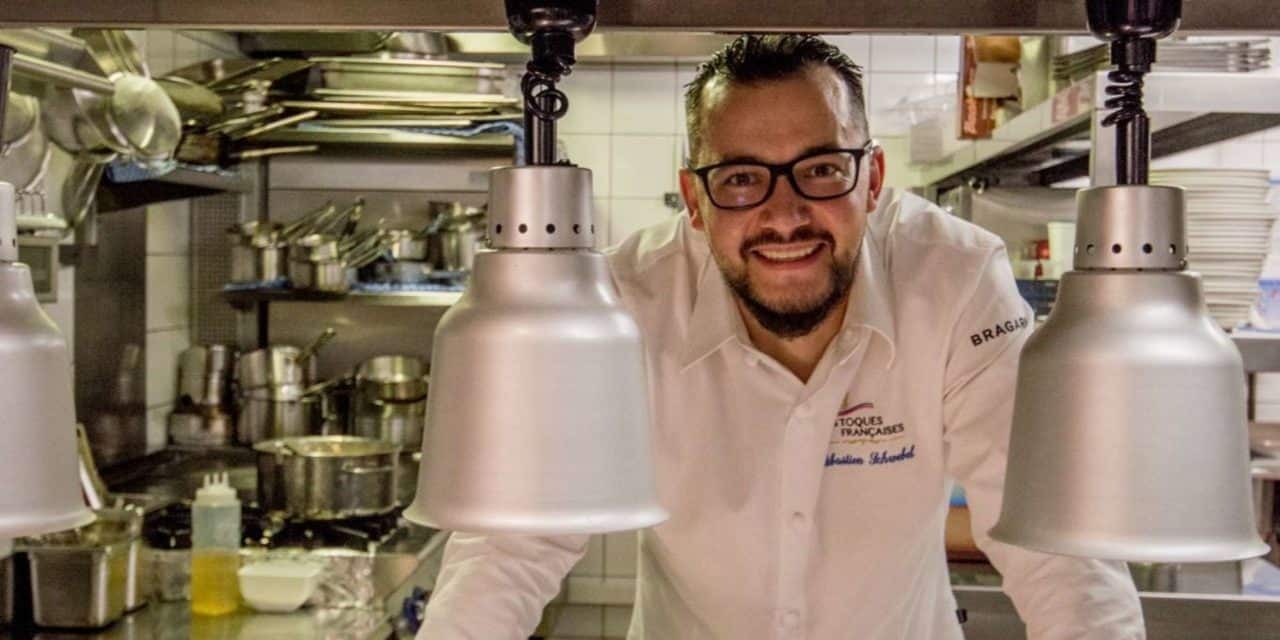 A MEMBER OF THE TOQUES FRANÇAISES, SWISS CHEF SÉBASTIEN SCHWEBEL IS AN ARTISAN CHEF WITH EXPERIENCE THAT SPEAKS FOR ITSELF. SINCE 2016, HE HAS BEEN AT THE HEAD OF THE KITCHENS OF THE ROTARY HOTEL RESTAURANT AT THE MGALLERY IN GENEVA, WHICH HAS BEEN AWARDED THE SWISS HOME-MADE LABEL SINCE 2017.
He began his career in 2002 with chef Eric Redolat, for whom he was a commis for a year. He continued his quest for excellence and gained experience for a year or more in different restaurants with great chefs. He became the half-chef at the Ermitage alongside Etienne Krebs between 2003 and 2004.
After this experience in his first starred establishment, he continued his ascent and became chef de partie the following year when he took up a position in the starred restaurant Le Haut Ribeaupierre. In 2005, the restaurant La Cigogne called upon his talents to become second chef. Between 2007 and 2009 he worked at La Table du Gourmet and La Chaumière, both of which have a Michelin star. He resumed his duties as chef de partie on this occasion.
A meteoric rise
These successive and highly enriching experiences opened the doors of the restaurant Le Floris** as head of the pantry alongside chef Claude Legras. He takes his position as head chef, for the first time in his career, with the restaurant L'Adresse in 2012. Two years that followed with another experience as chef de cuisine at Rooftop42. A career as rich as complete that leads him to the MGallery in Geneva. For more than 5 years, he has been at the head of the kitchens of the Rotary Hotel, four times starred, in Geneva. With his cooking he obtains various awards in 2018, including the first prize of the Swiss Taste Week.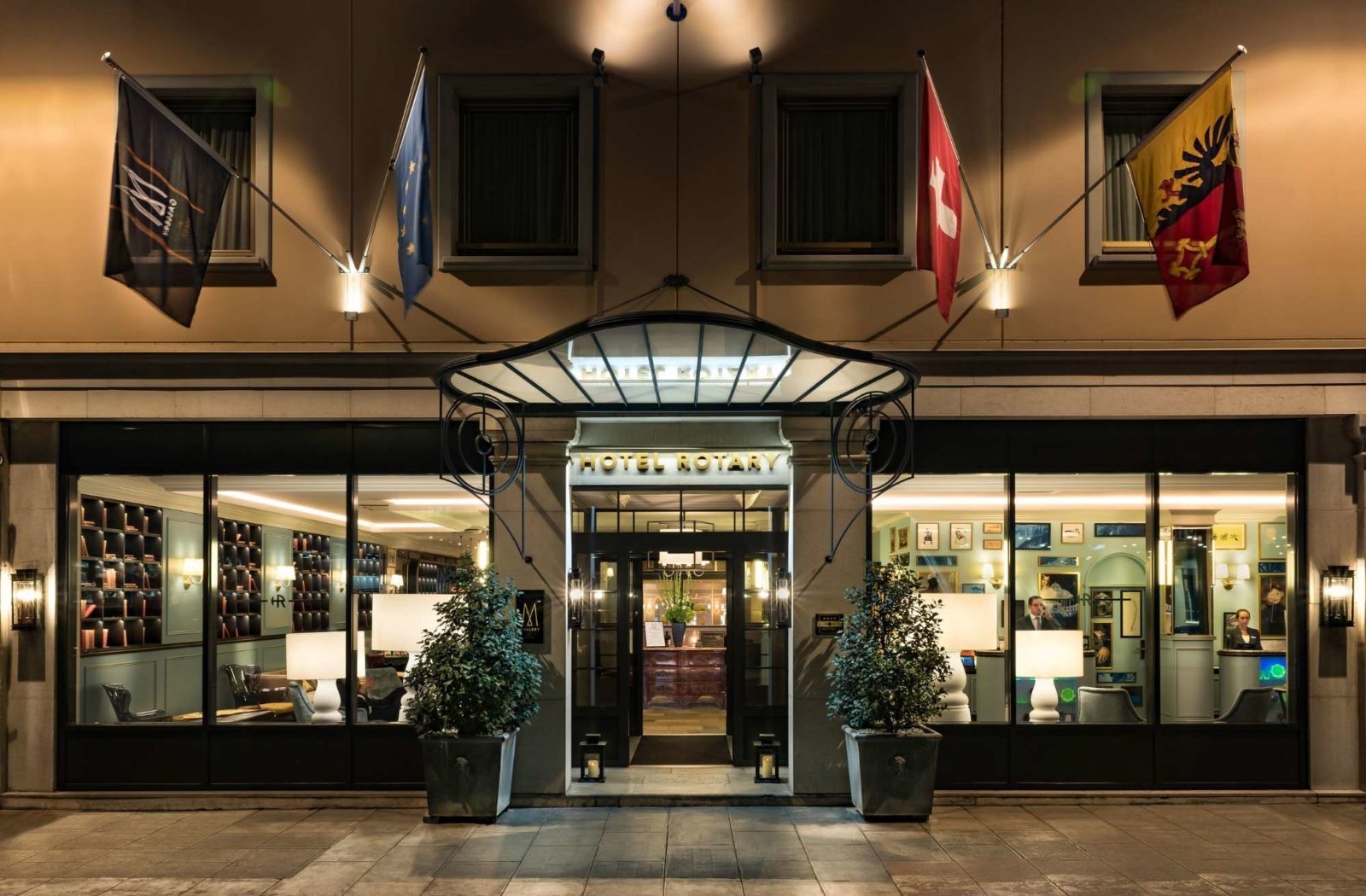 Chef Sébastien Schwebel's recipe
With so much experience, the chef offers his sophisticated recipe "Tortiglioni corolla with grta tofu, fricassee of Geneva cardoon from the Gallay house in Cartigny."
Ingredients for 6 persons:
500gr tortiglioni
250gr of grta tofu
1 kg of cardoon from the Gallay house
1 piece of red endive
1 piece of yellow endive
50gr of chives
Ras el hanout
Fine salt
Pepper from the mill
500gr of celeriac
200gr of liquid cream
20cl of milk
3 pink radishes
2 trays of shiso green
Recipe :
Tortiglioni stuffing
Chop the chives very finely and set aside. Put the tofu grta in a small bowl and season with salt, pepper, ras el hanout and the chopped chives. Set aside in a pastry bag to stuff the legs.
Creamy celeriac
Peel the celery and cut it into cubes. Put the celery, cream, milk and salt in a saucepan. Then cook gently. Once the celery is cooked, blend the mixture and set aside for later.
Cardoon
Peel the cardoons and cook them in a pan with salted water. After cooking, refresh them in iced water. Cut the cardoons into small cubes and set aside.
Cooking
Put a large pot of water to boil and salt it well. Once the water is boiling, plunge the tortiglionis in and cook for 12 minutes then refresh and set aside.
Dressing :
Stuff the tortiglionis one by one with the tofu cream, making sure to fill them well. Then arrange them in a circle all around and tighten them well.
In a saucepan, put the cardoons and a little creamy celery to bind, check the seasoning and then fill the inside of the tortiglioni corolla almost to the top. Decorate the top with endive and pink radish tips or other small seasonal vegetables, then a little touch of shizo green to accentuate the taste of the ricotta.
Enjoy!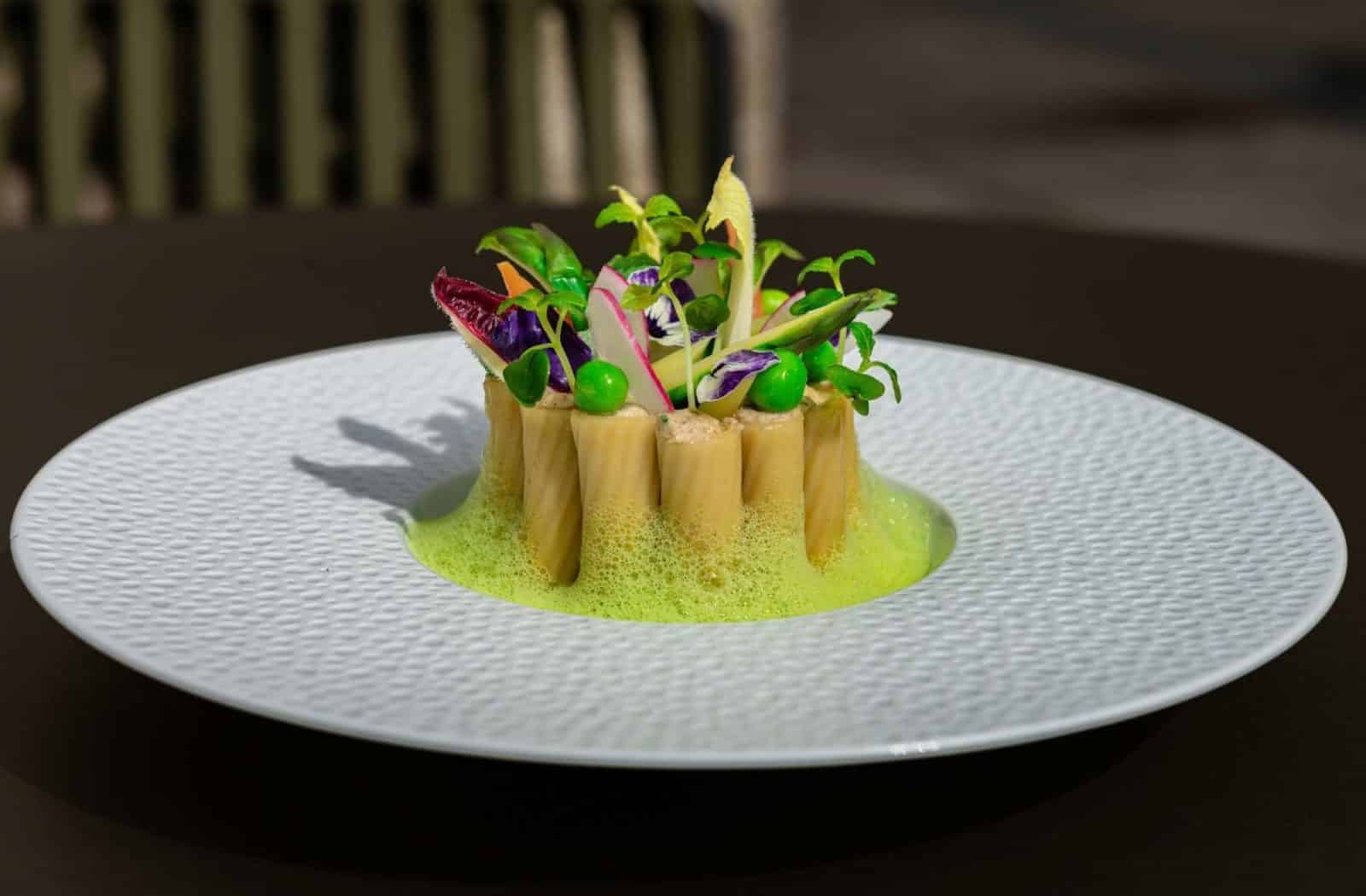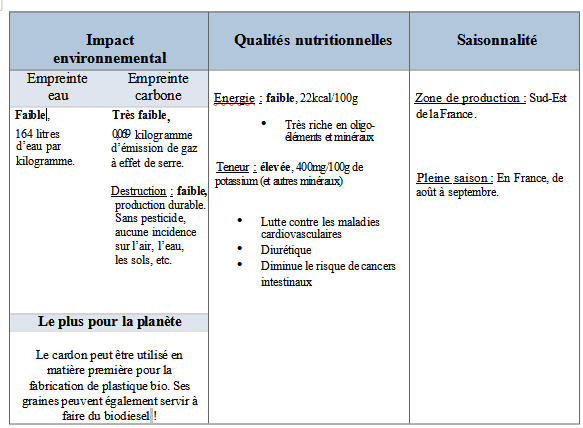 The benefits of cardoon
Cardoon is a greenish vegetable plant from the same family as the artichoke. This herbaceous, perennial, biennial plant is one of those "forgotten" vegetables that are nonetheless healthful allies that should not be overlooked. From a nutritional point of view, it is a food that has the advantage of being very low in calories, which can therefore be part of a weight loss diet.
It also contains a high content of minerals and trace elements: magnesium, calcium, iron, selenium, zinc, and especially potassium, hence its interest in regulating blood pressure in adults. Thanks to all its virtues, cardoon is a food that Less Saves The Planet recommends.
To find all our news, find us on Instagram and on our Twitter account.
We post daily on our social networks so you can be up to date every day. You can also share our contents on your own networks from the options displayed at the bottom of the page!
See the article on 130G OF MEAT TO SAVE THE PLANET
See you soon for our next article!
Find the chef Sébastien Schwebel on the website of his restaurant or directly on site:
Rotary Hotel MGallery Geneva, +41 22 908 80 80
18-20, Rue du Cendrier, 1201 Geneva, Switzerland