GUY MARTIN, LE GRAND VÉFOUR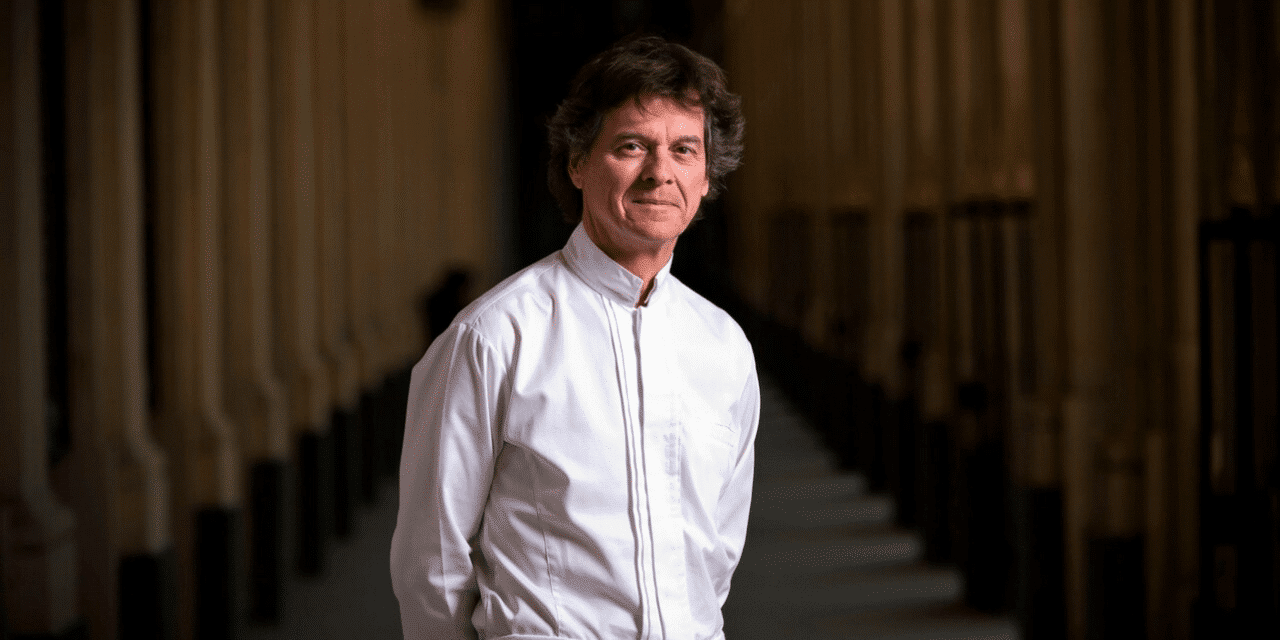 Guy Martin grew up in Bourg-Saint-Maurice with a passion for music, but it was in a pizzeria, when he was a teenager, that he had his first experience in cooking. The accidental discovery of Ali-Bab's book "Practical Gastronomy"  was love at first sight, and the origin of his career as a chef. He perfected his skills in the Relais and Châteaux, including Coudray and Divonne, where he took over. He was already a Michelin-starred chef in 1991 when he went on to direct the famous Grand Véfour  in Paris, which he bought in 2011. He also owns the Pasco restaurant located in the seventh arrondissement of Paris.
His commitment to the environment
Guy Martin attributes his eco-responsibility  to his peasant origins and his upbringing. His commitment to the environment is expressed in all fields, from gastronomy to his daily life. Both in his restaurant and in his personal environment, the chef is very careful about his consumption of water or electricity in order to minimize his carbon footprint. As we highlight in Chapter 8 of  Less Saves The Planet,it is necessary to reduce global warming by 2 degrees Celsius.  Guy Martin is very respectful of nature and the plants it offers us, as explained in the chapter 5 of Less  Saves The Planet about the soil and insects. He also pays attention to waste, which he tries to minimize.             
Guy Martin's gestures
In his restaurant, he cooks seasonal products  which he buys locally most of the time. In the kitchen, waste is banned, he tries to throw away the minimum and he accommodates the leftovers. Peels can be incorporated into recipes, or vegetables simply cooked with the skin. In addition, they can be used to make a soup, a stock, or a juice. The basis of these is often cooking water that the chef reuses when he has no other vegetables to cook.
In his kitchens, containers are always chosen wisely according to the food being cooked, so no energy is used unnecessarily. When cooking in a casserole or in a frying pan, the juice is preserved to make a second one or a dressing.
For fish and meat, bones and carcasses can be scraped to make juice, bites or stuffed food. 
In terms of drinks, remainders of bottles of red wine are reused in homemade vinegar in which they maintain the bitterness.
The leader in the campaign
These habits remain when he is in the countryside, where he makes composts and provides containers to collect rainwater. He takes special care of his vegetable garden, his herbarium and also in the picking, at the rhythm of the seasons, of fruits, mushrooms and benefactor herbs.
Like Guy Martin, we can all adopt these environmentally-friendly habits. It is essential that each of us do our part in order to reduce the impact of human activity on the planet. So you can learn more about the small gestures to adopt in our book Less Saves The Planet, available for free in the section "The Book".