CHEF JULIEN ROUCHETEAU'S GREEN GESTURES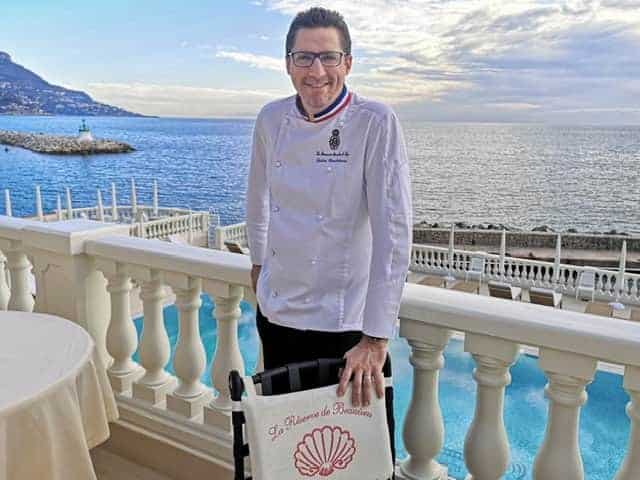 The thrilling story of this talented chef
The iconic Beaulieu Reserve in Beaulieu-sur-Mer is one of 400 exceptional hotels in the world of the prestigious "The Leading Hotels of the World" brand. Its owners,  Jean Claude and Nicole Delion, have recently undertaken first-rate beautification work. Since they acquired it, they have made it the quintessence of the prestigious hotel industry on the banks of the Rivera prized by a very demanding national and international clientele. Since the second half of 2019, they have chosen the 2018 french craftsman of the year Julien Roucheteau to manage their kitchens. Great three-star chefs have marked the career path of this young forty-year-old, starting with Philippe Legendre at the Georges V. Michel Troisgros, consultant of the Hotel Lancaster rue de Ponthieu in Paris, will bring him there as a chef. In 2015, he gave it two stars. It is therefore the same objective that he has set himself, and this one against all odds.
An eco-responsible chef
This picky and perfectionist culinary artist, surrounded by a solid team, wants to be fully in tune with the surrounding nature whose seasonality is the corollary. His professional conscience on environmental problems has woken up early. Since then, he strives to put into practice ethics and sustainability in the exercise of his profession. It is a duty for him to work as closely as possible with farmers, fishermen or producers of fruits and vegetables, poultry raised outdoors, butter, free-range milk and meat, who are mindful of biodiversity. Thus, he has selected those who manage and understand thier pasture in an ethical way. By taking care of their herd whose diets are healthy, they offer their customers a top quality meat.
For Julien Roucheteau, the rigorous management of waste needs an architectural approach. He sets an example through the way he works with vegetables. In order to minimize his waste, he integrates their peals into multiple recipes for both customers and staff meals. They are also the basis of sauces and accompaniments to aromatic herbs. He likes to make infusions after drying them. In his ecological universe, the choice of laundry or disinfecting products is mindful of their composition, as well as plastic objects are prohibited, except those that are biodegradable or recyclable. With such intelligent, simple and effective ecological practices, Julien Roucheteau wants to be part, as others of his peers, of a chain that brings respect for the planet, which is honorable.