BRUNO OGER, A CONSCIOUS STARRED-CHEF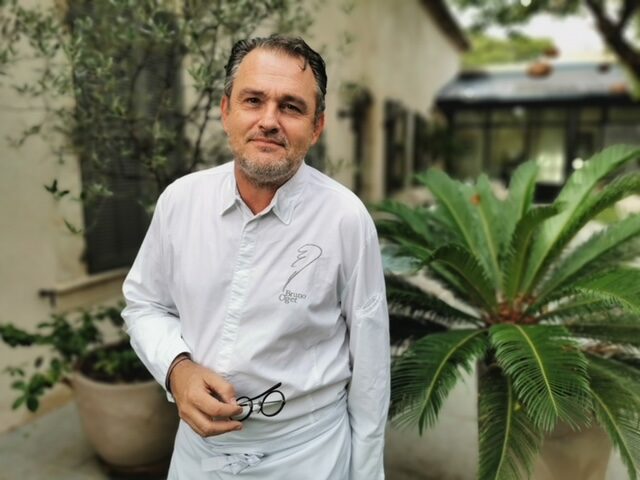 Bruno Oger, an experimented starred-chef
Bruno Oger, has long been the double-starred chef of the famous Villa des Lys at the Majestic Barriers in Cannes. He set up his own business almost ten years ago at the Cannet, located ten minutes from the Cannes Croisette. Shortly after opening his eponymous Bastide, with two universes, including one, the Bistrot des Anges, with its relaxed atmosphere and gourmet menu, he will get his two stars at Villa des Anges, his restaurant dedicated to fine dining. His great pride is to have seen the clientele who already greatly appreciated his cuisine and personality when he officiated in his cannes palace, following him in his new establishment. This exciting Breton, a great specialist in the opening dinners of the Cannes Film Festival including those of the 50th, 60th and 70th, draws his strength from Hélène, his dear gifted portraitist wife, his two sons and the team that accompanies him, Jacques Di Guisto, his second for more than twenty years, Maxime Simonot, his new pastry chef, his brigade of multiple and enriching nationalities, Alex Dervieux , its expert sommelier and its director Éric Descazaux.
 Its bastide: a real eco-friendly lab
For Bruno Oger, who is in line with eco-responsible leaders, ecology must be both reasonable and reasoned. First of all in the choice of products, food, poultry, meats and vegetables, aromas and the drinks that accompany them. These must come from the national terroir and of course first to the region without blindly pouring into the locavore excessively. Waste management is also important. These are all carefully sorted and separated, from used oils to folded cartons! The 80 daily meals served to the forty employees are elaborated as accurately as they can to throw away less while being well-crafted. Energy savings are also one of his main concerns. In winter, staff should pay particular attention to the closure of the doors and windows of the various spaces in order to reduce heating consumption.
Ecology is also for the chef the fairest use and low consumption of lighting. The substantial investment in LED lights he has undertaken in his gigantic kitchen is a good example. This one has two spaces, one dedicated to the double-starred gastronomic table and the other to the bistro part, these are in action depending on their use. Bruno Oger has just installed a new outdoor sign of two meters by three meters that will consume only the equivalent of a bulb of one hundred watts. It goes without saying that all the vegetation, the vegetated outdoor spaces are drip-watered. In the end, Bruno Oger wanted his Bastide to define itself as a veritable eco-friendly lab while delivering an infinitely virtuous and tasty cuisine, well in tune with the times.